KLI-alumnus Martijn Blikmans: Do we live in the age of emotion politics?
Surprising political victories in the last decade, such as Donald Trump's presidential campaign win and the Brexit, fuelled the popular lay theory that we are living in an age of "post-truth" politics, where facts do not matter anymore.
In his dissertation KLI-alumnus Martijn Blikmans discusses how the addition of anger, disgust, hope, and nostalgia to political messages affects political support for the communicator and (perceived) political polarisation in society. Emotion communication did not seem to positively affect political support or polarisation, and sometimes it even backfired.
Martijn Blikmans obtained his PhD in June 2022 at the University of Groningen. His promotors were prof. Martijn van Zomeren and dr. Kai Epstude. Blikmans currently works at the University of Groningen Library as Academic Information Specialist.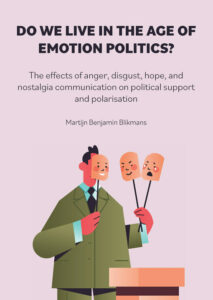 Read more:
---
terug